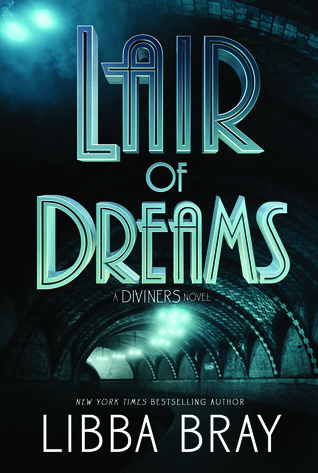 Details: 624pp, Little Brown Books for Young Readers hardcover. (I was provided with a Netgalley e-ARC free for review — thank you, Little Brown!)
Release date: August 25, 2015
Series: The Diviners, book 2
Rating: 4/5
Buy: BN.com — Books-a-Million — Book Depository
Summary (from Goodreads): After a supernatural showdown with a serial killer, Evie O'Neill has outed herself as a Diviner. With her uncanny ability to read people's secrets, she's become a media darling, earning the title "America's Sweetheart Seer." Everyone's in love with the city's newest It Girl…everyone except the other Diviners.
Piano-playing Henry DuBois and Chinatown resident Ling Chan are two Diviners struggling to keep their powers a secret—for they can walk in dreams. And while Evie is living the high life, victims of a mysterious sleeping sickness are turning up across New York City.
As Henry searches for a lost love and Ling strives to succeed in a world that shuns her, a malevolent force infects their dreams. And at the edges of it all lurks a man in a stovepipe hat who has plans that extend farther than anyone can guess…As the sickness spreads, can the Diviners descend into the dreamworld to save the city?
My thoughts: Ms Libba Bray knows how to craft her series. The Diviners (book one) pulled me in just enough, but this second installment really kept me enthralled! Lair of Dreams goes one step further in that this time, we get more character diversity.
     The Good
More characters, first of all. I really like how Ling Chen and Henry get on together and play off of each other's energy. And how they share an ability was another plus, that way we see their growth in tandem and they can be buddies through their evolution! (The worst is when there's a character or two you really like as people and you have to watch them suffer.)
In The Diviners it took more time than I liked to get used to the flapper speech and colloquialisms, which is partly my fault for not exposing myself to enough literature of the flapper age. But there were also several uses that felt entirely too jarring and over-the-top. In this second book, every use appeared fluid and well-fitting with the motion of events. Something that tied in well with this was one or two uses of historical events that were woven into the fiction. That's right, there actually was a sleeping sickness pandemic in the 1920s! I had to google it to be sure, but it sounded vaguely similar to historical events.
The mystery! Almost above all else, I love it when series string us along a theme thoughout all the books. So far, Libba Bray is doing just that with The Diviners what with the history of Evie and James and then Sam's mom's disappearance. We learn just a tad bit more in both instances to keep us drooling for more!
     The Meh
This could be just me, but I couldn't remember the finer details of the first book! It's been so long since I've read it, and I wasn't even among the first people who bought the book in hardcover — I waited till paperback! I think that's a huge drawback with having to wait so long between books — you forget things….
Please please please, if you felt at least lukewarm (but hopefully better than lukewarm) about The Diviners, stay tuned for Lair of Dreams! I think you'll love it. 4/5