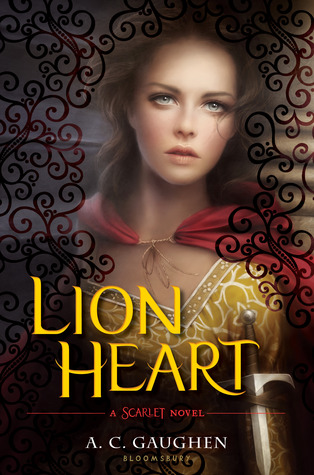 Details: 348pp, Bloomsbury USA Children's hardcover
Release date:  19 May 2015
Series: Scarlet, book 3
Rating: 3.5/5
Buy: BN.com — Powell's — Politics & Prose — The Book Depository
Summary (from Goodreads): Scarlet has captured the hearts of readers as well as the heart of Robin Hood, and after ceaseless obstacles and countless threats, readers will finally find out the fate of the Lady Thief.
Imprisoned by Prince John for months, Scarlet finds herself a long way from Nottinghamshire. After a daring escape from the Prince's clutches, she learns that King Richard's life is in jeopardy, and Eleanor of Aquitaine demands a service Scarlet can't refuse: spy for her and help bring Richard home safe. But fate—and her heart—won't allow her to stay away from Nottinghamshire for long, and together, Scarlet and Rob must stop Prince John from going through with his dark plans for England. They can not rest until he's stopped, but will their love be enough to save them once and for all?
My thoughts: I am so conflicted with this final book in the Scarlet trilogy that I'm not even sure I can give it a rating that matches all my feelings. For one, I am still in love with the trilogy's idea with gender-bending the classic Robin Hood tale to make a woman into the mastermind behind it all. In this book in particular, however, there seems to be one overly tragic flaw that's making me question this whole book's plot.
Who here loves a good B plot? You know. Like in many YA SFF books there's the A plot, the characters on a classic SFF journey, and the B plot, that two of the characters were slowly falling in love. I generally like a B plot because it amps up the tension. BUT WHEN IT GOES COMPLETELY UNRESOLVED?? How would you like to get in a taxi on the way to your next big adventure only to find out that you're never going to get out of said taxi? NO THANK YOU. No matter what kind of taxi ride it is (they can be pretty eventful if you've got an experienced taxi driver) you want to get out at some point. [[SPOILER AHEAD]] So YES, after all the lead up I wanted Scarlet to officially save her father KING RICHARD so that estranged father and daughter could be reunited. I mean HELLO Eleanor has already more than accepted her so why not have more of a family reunion? That was more than hinted at even in book 2 that when it didn't come I felt sure my book had been mis-assembled and I was missing pages.[[END SPOILER]]
On the other hand, the romance was more pronounced. Normally I'm not a fan of romance in YA books, but it worked well for Lion Heart since it was the last in the trilogy: I wanted to see my favorite characters happy in the end! And even though Scarlet doesn't end up meeting her birth father, she still continued to form a close bond with Eleanor, which was excellent to see. She and Eleanor also had a very similar mind set, a similar way of doing things, and it was great to see that it runs in the family!
Overall, it was a good end to the series, though it could have been more well-planned. I would've liked to see Scarlet meet her dad…. 3.5/5