First Chapter First Paragraph Tuesday Intros is a meme hosted by Bibliophile by the Sea. Simply share the first paragraph of the first chapter of the book you are reading or thinking about reading soon.
I was getting all set to do this post on Pawn by Aimée Carter, but I got 18 pages in and thought, this is reminding me too much of Legend. I dropped the book. I'm not counting it towards my DNF list because I honestly don't think I gave it a good enough shot. In the mood I am now though, I just can't read it. Legend had such a promising start, but book two had middle book syndrome and book three didn't entirely recover from that mediocrity, in my opinion.
SO, moving onto my next read….
From Sisters' Fate (Cahill Witch Chronicles #3) by Jessica Spotswood….Currently (about to start) reading *no spoilers!*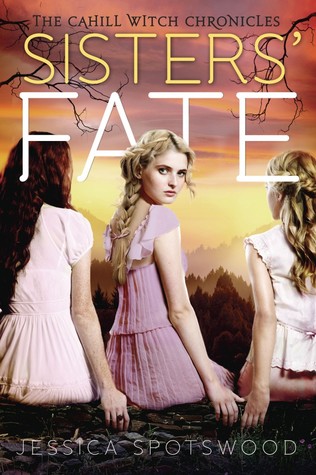 Brenna is dancing up the marble steps to the front door, and I'm following her when there's a sound — flesh smacking against we pavement — and I turn. Finn's on his hands and knees; he's tripped over the curb. He picks himself up, pokes his glasses into place, and walks back toward his carriage, but his gait lacks its usual gangly grace. He pauses, examining the carriage, looking as though he's puzzled by it.
This marks the beginning of the end for the Cahill Witch Chronicles, a series that has, for me, gained momentum as it progresses. An excellent first paragraph since it raises curiosity about characters with whom we're familiar! So excited to officially begin.